Master Mechanic in Car Care Business Magazine
The Beginning – Master Mechanic
Since acquiring Master Mechanic in 2004, Holmes and Welsford have placed a strong emphasis on a personal, yet analytical approach to business. Welsford and Holmes have known each other for 25 years and actually met through their spouses. They're both avid car guys with a passion for vintage automobiles and have also applied that same passion in managing their business. Holmes, a certified Red Seal Class S technician, was the very first Master Mechanic Franchisee in 1986 and subsequently rose to become General Manager of the company. Welsford — with a background in corporate finance and fleet management, plus an understanding of utilizing metrics, data and sound management strategy to drive the business forward — wanted to move from corporate life back into small business. In the early 2000's, Holmes and Welsford decided to take the plunge and acquire the business. "With our combined varied skill sets, we had the recipe for a great team in moving our new business forward," he says.
Adding Improvements
"The first order of business was a little housekeeping, including a relocation of our Head Office and new corporate look, while "refreshing" the appearance of our stores. "Perception is a reality," says Welsford, "and we wanted our locations to reflect a more consistent branded look. It is amazing what new external and internal signage and a few gallons of paint can do!"
Another concern was the store location. "As some leases came due," says Holmes, "we looked at them and saw where we could improve things. We wanted to focus more on 'A type' locations in retail parks instead of B and C shops in the traditional industrial zones." Welsford adds, " all-new locations, as well as relocations, continue to reflect this strategy."
Since Holmes and Welsford took over Master Mechanic, another benefit has been the improvement in statistical analysis and reporting, allowing each and every one of Master Mechanic's 39 store locations to see how they are performing relative to their peers. "It is critical that each business owner understands the 'math' in their business," Welsford says emphatically. "We are relentless at driving this home at every opportunity. Each metric tells a franchisee whether they are on target or not… and we can explain what is required to get back on track. As the old adage goes, 'You cannot manage what you cannot measure'." "We encourage our franchisees to ask questions and compare themselves against other locations," says Welsford. "If one store wants to buy another store lunch and get an understanding as to how and why their store is achieving higher average repair order despite being in a similar location, it helps that store which in turn helps us. Win-wins are a wonderful thing!"
Holmes and Welsford both say that Master Mechanic's emphasis is very much on quality, not quantity. "We're not looking to be the biggest player out there with the most locations," says Welsford, "what we do want is to develop and maintain real, personalized relationships with our franchisees and vendors, as they are our partners. The larger the business, the more corporate we become and the more difficult it is to maintain those 'hands on' relationships."
Quality, Not Quantity
To that end, Master Mechanic has seen its store count grow from 35 locations in 2004 to around 39 today. But the emphasis has been on performance and quality. "We eliminated six locations but have acquired 10 more, creating a stronger foundation," says Welsford.
Staffing continues to pose challenges due to the shrinking supply of young people entering the trade. Master Mechanic places a strong emphasis on helping its franchisees attract and retain top talent. "We must groom and develop our own talent from within by bringing in young apprentices right out of high school and convincing them that a career with us is a great choice. As a personal development benefit, all our stores provide NAPA Excellence training so each apprentice and technician can become the best they can be. We also provide our Employee Benefit Plan to all staff," states Holmes.
These benefits, together with a clean working environment and solid support from the franchisor, are all key ingredients in providing a winning business model. "A clean, inviting business is not only for our shops' customers," says Holmes, " it's also for the technicians that work there." He acknowledges that when space is clean and organized, technicians are happier and the store is more productive.
Strong relationships with jobbers and suppliers are another benefit and Master Mechanic has built solid ties with a number of top industry players including Atlas Tire, CARQUEST, Castrol, Havoline, NAPA, NTD, Valvoline and Worldpac… to mention a few. Training has also been a major focus for Master Mechanic. "We work to stay current of the latest industry repair techniques and information, including myself," says Holmes.
"Diagnostics is where the future is going," he says. "Your technicians need to be equipped and understand what's required to fix these vehicles today. You can't just learn as you go with a wrench anymore, you need to have the knowledge and do your research to stay current in our ever changing industry."
Full-line Service
Master Mechanic emphasizes that its niche in the marketplace is full-line automotive service, from a basic oil change to complex electrical and engine diagnostics, including under car, under hood, tires and fluids. "We are a full-service facility, which means our customers do not need to shop elsewhere," says Welsford. "We don't shy away from anything. In fact, we pride ourselves on our diagnostic capabilities. Our mission is to become the only choice for auto repair and maintenance for each of our customers… we work very hard at earning this level of loyalty."
Yet within that generalized approach to car care, the personal, boutique feel is an important part of Master Mechanic's business strategy, reflected in the company's advertising slogan: At Master Mechanic, you talk to the Mechanic.
"We genuinely want all our franchisees to be successful," says Welsford, who acknowledges the $1 million annual sales is a benchmark for stores to reach. "Some are already there," he says, "and we want the others to get there."
Doing so requires many things, and it starts with a commitment to customer service. "We have to imagine for a moment that we are not in the car repair business, but rather the customer service business," Welsford says. "Our job is to provide professional car care advice, which includes vehicle inspections, prioritizing our recommendations, and developing budgets for our customers. It's what our customers expect and we work very hard to even exceed those expectations. If we are only mediocre at this, then we will fail. If we deliver a phenomenal customer experience, then we have created a customer-for-life. Do this for one customer at a time, and you'll build yourself a successful business."
It is this philosophy that's echoed not only to their existing franchisees, but also to those interested in joining their team.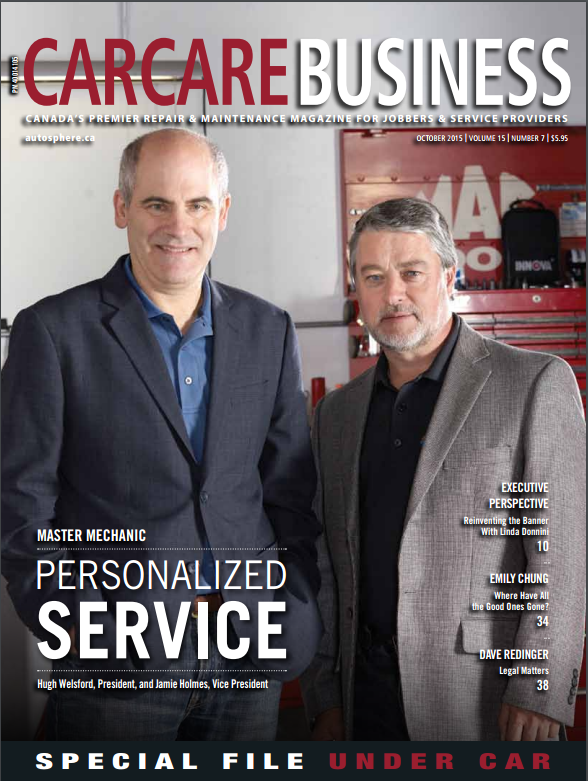 Source and Author: https://www.autosphere.ca/carcarebusiness/2015/10/30/carcare-business-october-2015/