Outdoor Movie Nights in High Park
Outdoor Movie Nights at Sorauren Park Sponsored By Master Mechanic
A family movie night is a great way to cap off a long summer day. It brings everyone together to unwind and have
fun. Sorauren Park Outdoor Movie Nights do this on a community-wide scale while supporting a great cause – Friends of Sorauren Park.
Master Mechanic High Park is proud to sponsor this event which brings our community together to enjoy and improve one of our most beautiful public spaces. The Master Mechanic High Park team would love to see you there. So here are four reasons to come and enjoy a movie at the Town Square in Sorauren Park:
Great Movies
All the movies are chosen by online poll! So far this year we have watched the classics The Princess Bride and Jaws. The Friends of Sorauren Park even teamed up with CBC music to broadcast The Tragically Hip's concert in their hometown of Kingston, a massive event in Canadian music. The fun continues in September and there will be a more kid-friendly movie played at an earlier hour. There are polls open soon so you can vote and have a say in the movies shown!
The Great Outdoors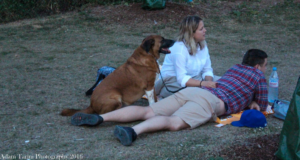 Of course, the movie itself is only half the reason to come down to these movie nights. At Master Mechanic High Park, we think that enjoying Sorauren Park is just as important as enjoying the movie itself. Sure, you may want to relax after a long hot day but that's not a reason to stop enjoying the beautiful weather. What better way to relax under the stars than watching a movie with friends and family?
Great People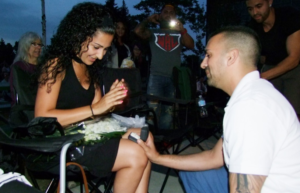 Master Mechanic High Park is proud to be a part of an event that brings our community together. It's a great way to meet and spend time with neighbours. Or just have a great time with the family. Speaking of bringing the family together one member of the Master Mechanic High Park team did this in a surprising way. Before watching The Princess Bride our very own Victor proposed to his girlfriend Daniella. He even brought a tiara and silver slipper (in keeping with the Princess theme). Congratulations Victor and Daniella!
A Great Cause
The Friends of Sorauren Park do a wonderful job in maintaining and improving the park. Not to mention organizing these fun community building events. During the Outdoor Movie nights, there is an opportunity for you to make a small donation to this great cause.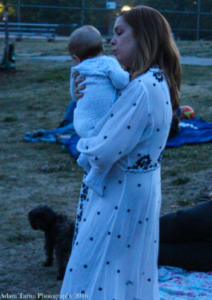 We hope to see you and your family at the next Outdoor Movie night. Help the team at
Master Mechanic High Park support a great cause. Join us in our commitment to keep one of our community's most beautiful shared spaces open. So, join us and plan a family outing to Sorauren Park to enjoy this wonderful event with your friends and neighbours.
Next Movie Night at High Park
September 24, 2016 @ 7:30pm – Movie TBD
Thank you to the Friends of Sorauren Park for your dedication to this important community space and thank you for letting The Master Mechanic High Park team get involved with this event.
We hope to see you there!